Has Sydney suddenly become the rockabilly centre of the world? The finger-popping hipster virus seems to be infecting young people all over the city. Look right and there's a guy with brylcreemed hair and a leather jacker - look left and there's a girl in a ponytail in a polka-dot A-line dress - with petticoats; or a pair of curve-crazy shrink-on jeans with a low-slung halter top.
These cats and kittens creep to the Rock'n'Roll Alternative Market at the Jets Sports Club on the third Sunday of every month to stock up on vintage threads as well as leafing through stocks of vinyl, CDs, pulp fiction books and art stalls.
Betty Page is better known to these grease monkeys and their honeys than Lady Gaga and they fill their lives with swing, surf and sunshine. For nights out, you might find them at a burlesque show, a rockabilly club, or even at a roller derby - maybe even as performers or competitors.
Kustom Kar events act as guy-magnets, such as the VaVoom Fest at the Sydney Showground - and garages all over the city resound to the roar of souped-up roadsters, gaily decorated in Japlac glazes and running on a wing and a prayer. Fine-tuned engines combine with double exhausts and high-end gearing to produce terrifying monsters on the dragstrips.
These days the rockabilly spectrum starts at the hard end of the curve with a guitar, a bass and a drum and plenty of backbeat - but regularly merges into jive 'n' swing, Old-School R&B, doo-wop, more tradiitonal country and bluegrass, surf, and melodypop whilst veering off in all directions into sub-genres such as punkabilly, horrorbilly, psychobilly and cowpunk. There's plenty to choose - and bands from all over the world.
The look has hints of nostalgia through a looking glass - and it's very cool -– when men were guys and girls were dolls. Far from being old-fashioned, however, it's about as avant-garde as you can get (or have-an-harde as a girlfriend said to me when she caught me drooling over her look!)
There are lots of places to get started - Route 66 (257 Crown St, Darlinghurst) has a wide variety of Levis and Wranglers, pencil skirts, circle dresses, garage and bowling shirts and vintage cowboy boots; Wheels & Dollbaby's (259 Crown St, Darlinghurst) has a more elegant verging on burlesque feel. Newtown's Faster Pussycat (431a King St) stretches from the 40s to the Noughties and can cater to the whole rockabilly family, including jumpsuits and Ts for rockabilly babies.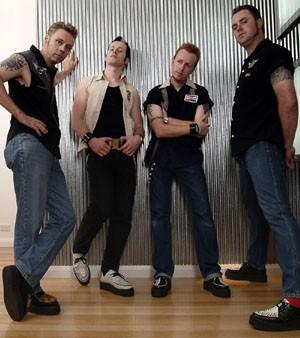 Increasingly, tattoos form part of the culture, both permanent and temporary. We would recommend you play with a few temporary ones at first before deciding whether to make a lifelong commitment. Sailor Jerry's pin-up girls are definitely back in style.
Kittens interested in perfecting hair and make-up should head for Boogie Bop Dames. You'll be given the tools and tricks of the trade to take home, so you can be a rockabilly babe every day of the week.
Once you look the part, Swingtime Australia runs dance classes throughout the suburbs, while duo Limpin Jimmy and the Swing Kitten run cult-workshops on Sundays - check them out!
And when you're looking for somewhere to bop and boogie, check out the listings at the Petersham Inn or the 50-50 Club. Rockabilly Retro is a website that regularly updates all the listings in the city
Don't miss out - check it out!

andrew666




Number of posts

: 266


Reputation :

4


Points :

700


Registration date :

2010-08-30



Interesting article, where'd it come from?

Though claiming Sydney is a rockabilly fashion centre even for Australia is a long call, my cash would be on Melbourne personally!

hewey




Number of posts

: 412


Reputation :

26


Points :

442


Registration date :

2008-11-03



I'm afraid I'm going to have to go with hewey on that one.
Five or six shops does not a Rockabilly bonanza make - I've resorted to making most of my own stuff *shock horror* or seeking out the online (US and UK based) brands. With the Aussie dollar so strong at the moment who could resist the tempting TUK US site....mmm...shoes.

Although I am going to put a mega shout out for the RockabillyRetro site - it is pure gig-gold!
XX
Missy

MissWhiteKeys




Number of posts

: 5


Age

: 26


Location

: Sydney


Reputation :

0


Points :

5


Registration date :

2011-12-24




---
Permissions in this forum:
You
cannot
reply to topics in this forum